Unbeatable price entry-level Racing Drone
Looking at getting in Drone Racing?
The MJX Bugs B8 is the best bang for your buck entry level racing drone that offers outstanding performance and quality. The powerful MJx Bugs 8 Drone is equipped with Powerful brushless motors. Incorporating 4 x 1600kv Brushless Motor that is capable of top speed of 80kmph speed.
It integrates a 720p HD wireless camera that that transmits Video to the the FPV Goggle system kit and puts you in the cockpit of the drone for better response and maneoverability. The FPV doubles as a set of Goggles or an LCD Screen which can mount on the remote controller.
The remote controller is equipped with two way control technology providing you with up to 400m control range. The controller also offers weak signal and low voage alert which sounds an alarm and an led indicator to ensure that you have full control at all time.
It has a built-in independent ESC which provides worry free flight experience. The added ESC provides built-in automatic lock protection to protect the motor from burning out due to dead lock.
It has a high 7.4V 1300mAh capacity rechargeable battery that is capable of up to 14 minutes of flight time.
Powerful flight performance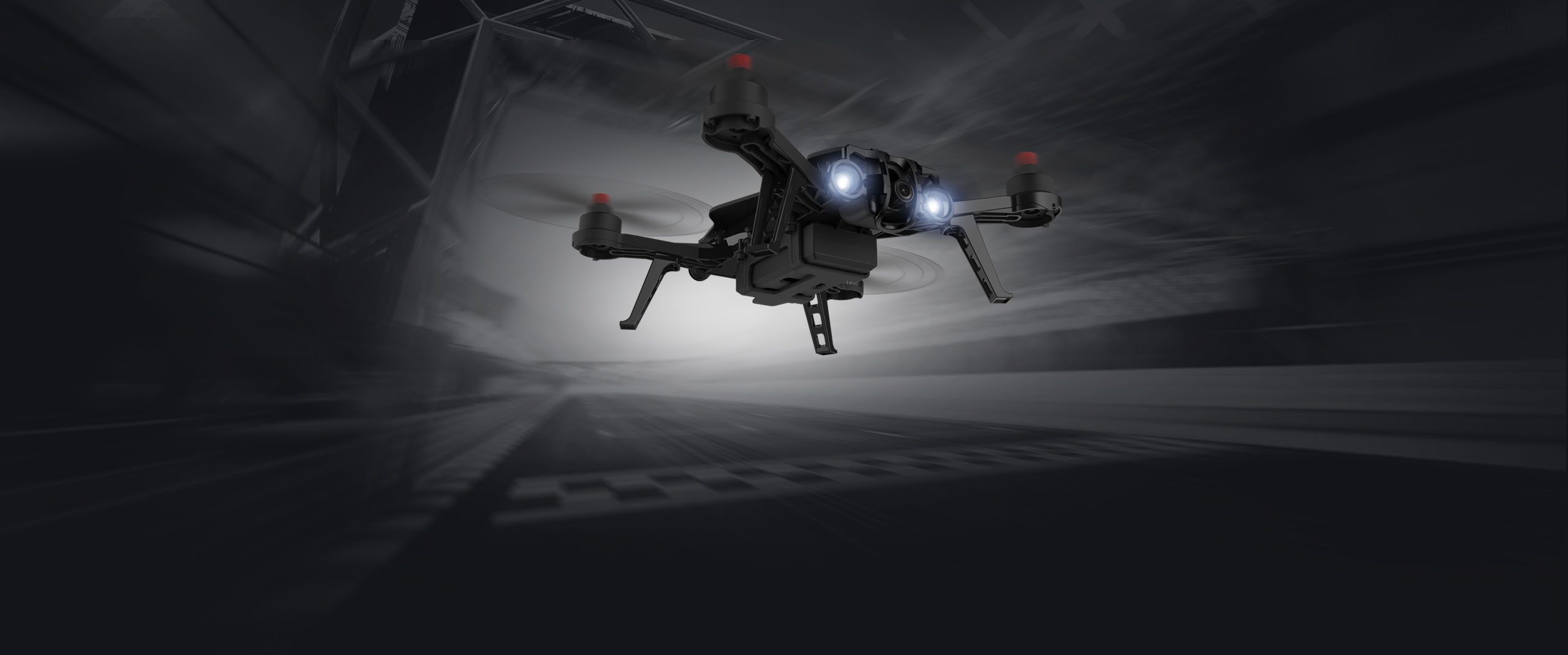 The adoption of Brushless Motors and 2.4 GHz Two-Way Communication technology supports Bugs 8 in excellent performance, flying at up to 45km/h,control range up to 300m.
Brushless motor

MT 1806 1800KV brushless motor is designed for Bugs 8. It features metal shell, good cooling performance, advanced inner electromagnetic construction, and working steadily in high speed.
4 in 1 esc
Goggles
Brushless motor
2.4Ghz two-way communication
​
Bugs propeller
Bugs series aircraft equipped with precision aerodynamic propellers, which have strong force and excellent balance to enable the aircraft to perform well and capture sharp images even added FPV module.
4-in-1 responsive esc
The innovative 4-in-1 Electronic Speed Controller makes racing aircraft more agile and more   adept at sudden maneuvers including sharp turns and hard braking.
A perfect partner to work with MJX D43 FPV monitor
Enjoy your outdoor flight, enjoy the great view, enjoy the immersive visualization experience.
Faster and clearer FPV video
Work together with D43 display screen, deliver FPV video with ultimate speed, stability, and clarity, it makes you experience the thrill of FPV flight like never before.
Comfortable & Flexible headband
G3 5.8G FPV goggles features adjustable headband and provide you a more comfortable experience.
FPV Goggles Parameters
Product description: G3 5.8G FPV goggles
Brand: MJX
Application: FPV goggles
Real-time image transmission mode: B3. B8. B8 pro.
High resolution camera
When camera meets drone, a walking movie is switched on. The flying drone can live stream the footage through the 5.8G real time image transmission system and offer much better and simple aerial experience to pilots.

One screen, Dual-use

The screen can be put on top of the remote controller or directly install inside the unique structure design of MJX goggles. One screen, dual-use, convenient and saves money. 4.3-inch screen brings best display of the image; pilot can experience better immersive racing flight.
5.8 G First Person View real-time HD image transmission

FPV is a new method used to control a radio-controlled vehicle from the pilot's view point. Most commonly it is used to pilot a radio-controlled aircraft. It is a great breakthrough of the high technology area.racing drone could be piloted remotely from a first-person perspective via an onboard camera, fed wirelessly to video FPV goggles or a video monitor, which enabling pilots enjoy a true stereoscopic view.
Module-designed Li-polymer battery

The Slide-in battery makes it much easier, safer and more convenient to prepare your bugs 8 before flight.
Longer than longer flying time- maximum 12 minutes

7.4V 1300mAH, high-capacity battery with energy-optimized system give you a vastly improved flight experience. An up to 12 minutes' footage satisfies all your desires about the sky.
Intelligent control, excellent grip

Compact and intuitive handling with comfortable tactile silicon and vibration signals make this remote control very convenient. The advanced two-way wireless technology offers a reliable connection between the remote control and the Bugs 8 .
H/L speed switch

There are 2 flight modes of the model: Low speed and high speed.